. . new paper article 26-Oct . .

*tsk tsk*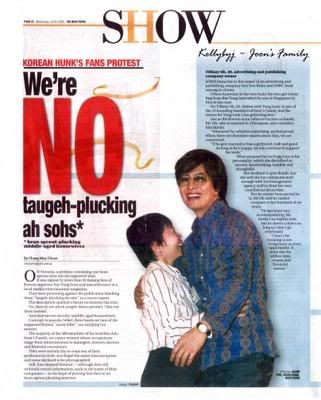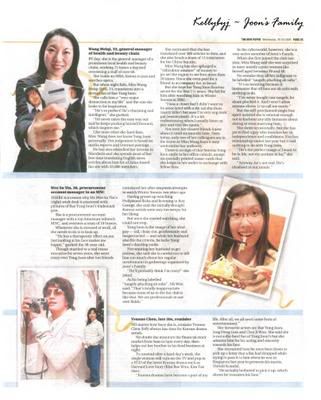 KOREAN HUNK'S FANS PROTEST
We're NO taugeh-plucking ah sohs*
*bean sprout-picking middle-aged housewives
By Chang May Choon
October 27, 2005
ON Monday, a petition containing one bean sprout went out via registered mail.

It was signed by more than 90 fuming fans of Korean superstar Bae Yong Joon and was addressed to a local weekly entertainment magazine.

They were protesting against the publication labelling them 'taugeh-plucking ah sohs' in a recent report.

The description sparked a furore on Internet fan sites.

No, they do not pluck taugeh (bean sprouts). They eat them instead.

And they are not ah sohs (middle-aged housewives).

Contrary to popular belief, these hardcore fans of the supposed Korean 'aunty killer' are anything but aunties.

The majority of the 500 members of his local fan club, Joon's Family, are career women whose occupations range from administrators to managers, lawyers, doctors and financial consultants.

They were initially shy to come out of their professional shells and dispel the aunty misconception and some declined to be photographed.

Still, four stepped forward - although they still withheld certain information, such as the name of their companies - in the hope of proving that they're no bean-sprout plucking matrons.
----------------------------------------------------------------------

Tiffany Oh, 39, advertising and publishing company owner
SOME know her as the owner of an advertising and publishing company that lists Rolex and HSBC Bank among its clients.

Others know her as the very lucky fan who got a bear hug from Bae Yong Joon when he was in Singapore in March last year.

Ms Tiffany Oh, 39, is one of the 10 founding members of Joon's Family and the emcee for Yong Joon's fan gathering here.

Just as the Korean actor refers to his fans as family, Ms Oh, who is married to a European, also considers him family.

'Whenever he achieves something, we feel proud. When there are distorted reports about him, we are concerned.

'If he gets married or has a girlfriend, well and good. As long as he's happy, we will continue to support his work.'

What attracted her to Yong Joon is his personality, which she described as sincere, hardworking, humble and thoughtful.

She declined to give details, but she said she has communicated enough with his management agency staff to draw her own conclusions about him.

But no matter how special he is, Ms Oh said he cannot compare to her husband of six years.

'He has been very accommodating. He thinks I'm slightly nuts but he doesn't object as long as I don't go overboard.

'I won't be trooping to see (Yong Joon) at every opportunity. It must also be within time, reason and financial means.'

Wang Meiqi, 33, general manager of health and beauty chain
BY day, she is the general manager of a prominent local health and beauty chain, working 15 hours a day and overseeing a staff of over 60.

She holds an MBA, listens to jazz and watches opera.

But when night falls, Miss Wang Meiqi, 33, transforms into a devout fan of Bae Yong Joon.

She calls him a 'very major distraction in my life' and the one she looks to for inspiration.

'He's so perfect! He's charming and intelligent,' she gushed.

'He never takes the easy way out and he keeps pushing himself forward, which inspires me.'

Like most other die-hard fans, Miss Wang does not know Yong Joon personally. Her judgement is based on media reports and Internet postings.

He has also rekindled her interest in Mandarin and she spends most of her free time translating English news articles about him for a China-based fan site with 33,000 members.

She estimated that she has translated over 500 articles to date, and she also heads a team of 13 translators for the China fan site.

Miss Wang has also splurged a 'ridiculous amount' of money to jet-set the region to see him more than 10 times. Once she even paid for a friend to accompany her to Seoul.

But she kept her Yong Joon fixation secret for the first 1 1/2 years. She fell for him after watching him in Winter Sonata in 2002.

'I was a closet fan! I didn't want to be associated with a shi nai sha shou (aunty killer) because I'm very ang moh pai (westernised). It's a bit embarrassing when I usually listen to jazz and visit the opera.'

Not even her closest friends knew about it until six months later. Even today, only two of her colleagues are in the know as Miss Wang fears it may undermine her authority.

There is no sign of that famous Yong Joon smile in her office cubicle, except on specially printed name-cards that she keeps in her wallet to exchange with fellow fans.

In the cyberworld, however, she is a very active member of Joon's Family.

When she first joined the club last year, Miss Wang said she was surprised to meet mostly career women like herself aged between 30 and 40.

No wonder they all felt indignant to be labelled 'taugeh-plucking ah sohs'.

'It's so insulting because it insinuates that all fans are ah sohs with nothing to do.

'I've never bought raw taugeh, let alone plucked it. And I won't allow anyone above 12 to call me aunty.'

But the self-proclaimed single free spirit insisted she is rational enough not to harbour any silly fantasies about dating or even marrying him.

She dates occasionally, but she has yet to find a guy who matches her in independence and confidence. Her last relationship ended last year but it had nothing to do with Yong Joon.

'He's the perfect image of I want to be in life, not my partner to be,' she said.

'Anyway, he's not real. He's idealised in our minds.'

Wee Su Yin, 38, procurement account manager in an MNC
THERE is a reason why Ms Wee Su Yin's work desk is plastered with pictures of Bae Yong Joon's trademark grin.

She is a procurement account manager with a top American infotech MNC, and oversees a team of 10 buyers.

Whenever she is stressed at work, all she needs to do is to look up.

'He has a therapeutic effect on me. Just looking at his face makes me happy,' gushed the 38-year-old.

Though married to a real estate executive for seven years, she went crazy over Yong Joon after her friends convinced her after umpteen attempts to watch Winter Sonata two years ago.

Having grown up watching Hollywood flicks and listening to Boy George, she said she initially thought Korean serials were way too weepy for her liking.

But once she started watching, she could not stop.

Yong Joon is the image of her ideal guy - tall, clean-cut, gentlemanly and bespectacled - and while her husband also fits the criteria, he lacks Yong Joon's dazzling smile.

Not wanting her husband to get jealous, she said she is careful not to tell him too much about her regular involvement in gatherings organised by Joon's Family.

'He'll probably think I'm crazy!' she joked.

As for being labelled 'taugeh-plucking ah sohs', Ms Wee said: 'That's totally inappropriate because none of us in the fan club is like that. We are professionals in our own fields.'

Yvonne Chen, late 30s, remisier
NO matter how busy she is, remisier Yvonne Chen always has time for Korean drama serials.

No doubt she monitors the financial stock market from 9am to 5pm every day, then helps out her brother in his food business at night.

To unwind after a hard day's work, the single woman will turn on the TV and pop in a VCD of the latest Korean drama such as Harvard Love Story (Kim Rae Won, Kim Tae Hee).

'Korean dramas have become a part of my life. After all, we all need some form of entertainment.'

Her favourite actors are Bae Yong Joon, Jang Dong Gun and Choi Ji Woo. She said she is not a die-hard fan of Yong Joon's but she admires him for his acting and sincerity towards his fans.

She recounted how he once bent down to pick up a letter that a fan had dropped while trying to pass it to him when he was in Singapore last year to promote his movie, Untold Scandal.

'He actually bothered to pick it up, which shows he treasures his fans.'