. . it's Rain-ing tonight . .
This entry was written a few hours before the concert.. hee!
Ahhhh... I'm darn excited right now coz I'm going to watch Rain's concert tonight!!!!!!!!!!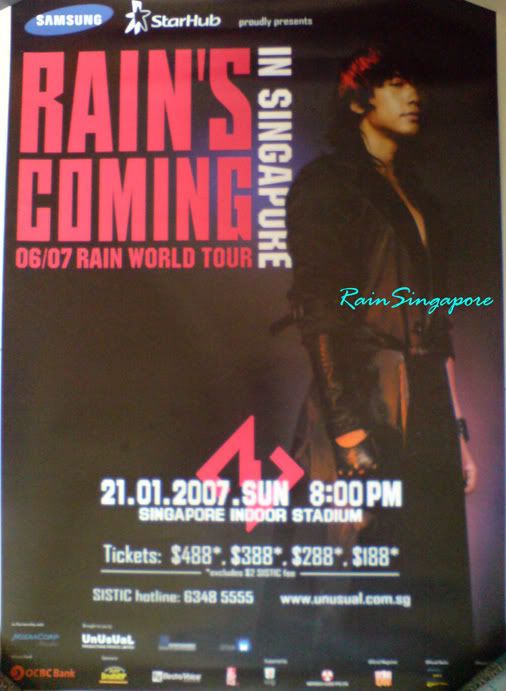 U know, I've been wanting to catch his concert since a year ago after watching his first concert in Seoul on a video! And I dunno how but I kinda know he will hold a tour concert at the end of 2006 and I was detemined to get the best seats! But I was darn disappointed when I thought it is wasn't true. Then then then.... came the news of him holding the concert in Jan 2007, I was overjoyed!! But.. came the news of the pricing of the tickets, boy was I shocked. I think it shocked everyone as well, because the most expensive ticket was $888 and the cheapest is $188! My jaw dropped. Period.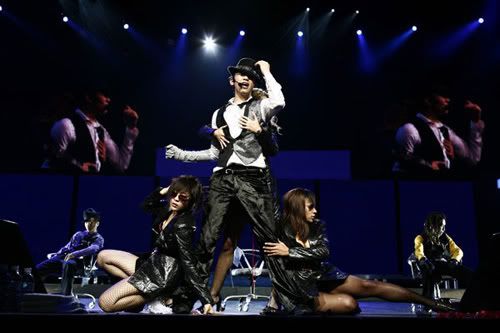 Somehow, $888 ticket did not take place the seats were reserved for the VIPs. I guess they realised it was too ex? *shrugs* Anyway, I reserved 2 x $188 tickets for myself and my cousin! It is the most expensive ticket I ever paid for a concert. I watched Jay Chou's concert for front seats at $150 in 2005 and I can see him like right in front of us. But for Rain's, I will be bringing a binoculars.. *pout* But.. IT'S OK! Laugh all you want at me, I don't care! It's the whole atmosphere of being in the concert with the same crazy people out there that makes the whole difference between going there and watching at home!
Ahhh.. so looking forward, I'm even practising singing his songs now.. wahaha!!! Should I bring glow sticks?? Or maybe paste glow sticks all over me so I could stand out and maybe he will notice me? Hohohoho~!!