. . aftermath of Rain . .
Yo yo yo!!! Came back from the concert since 11 plus and I'm still not asleep now even though it's already 3.30am and I have to work tomorrow! Why? Because I have this Rain Syndrome that's making me surf and surf for things of him and his concert! Totally smitten by him now.. *oops*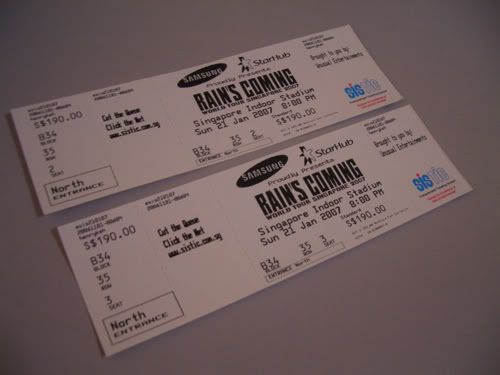 Our golden tickets!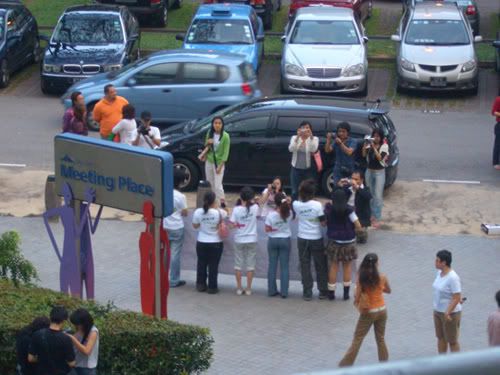 Thailand Fan Club posing for the cameras!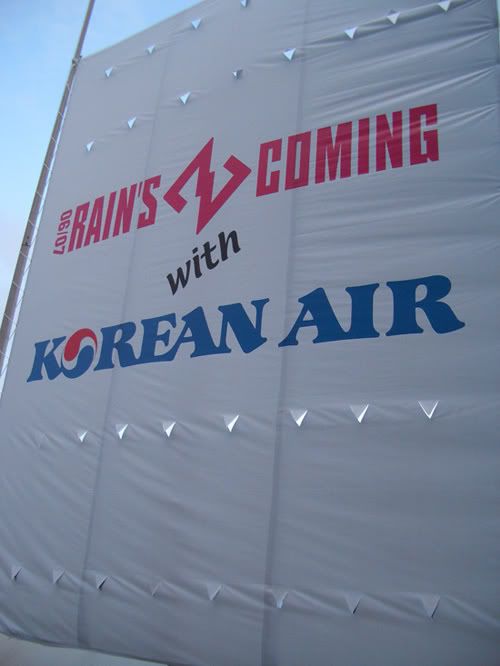 The big poster outside of the entrance!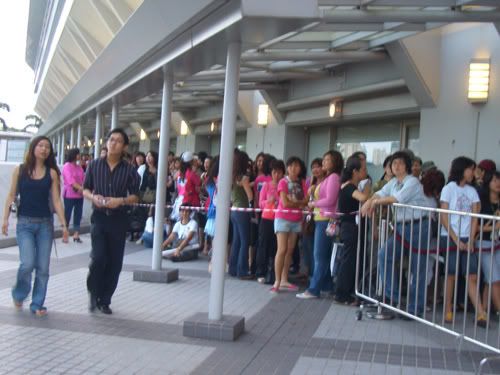 The long queue to get in! Waited 1 hour plus!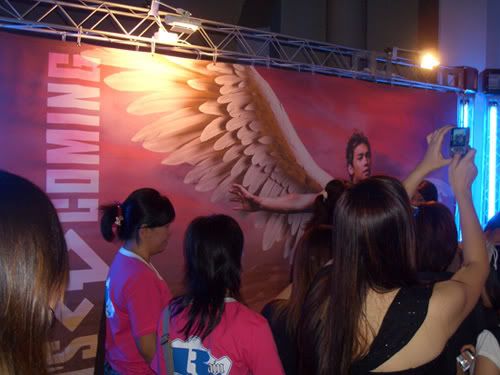 The reception! Everyone's waiting to take photo, but I just snap from afar!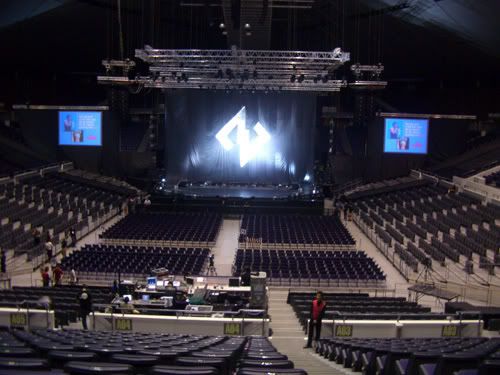 We were one of the first few to get in!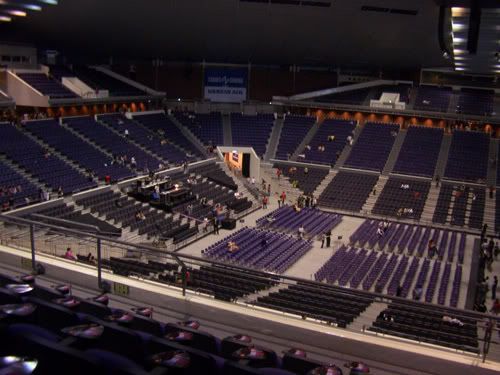 Bird's eye view from where we were sitting!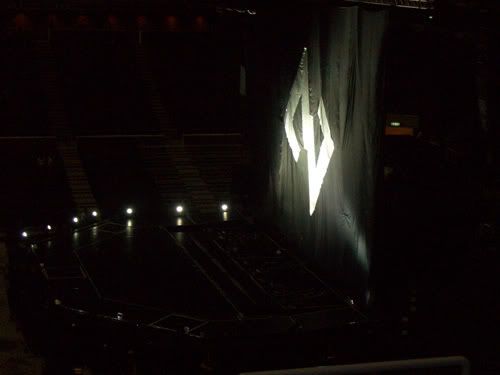 Rain's hiding behind! Everyone screamed whenever that curtain moved an inch!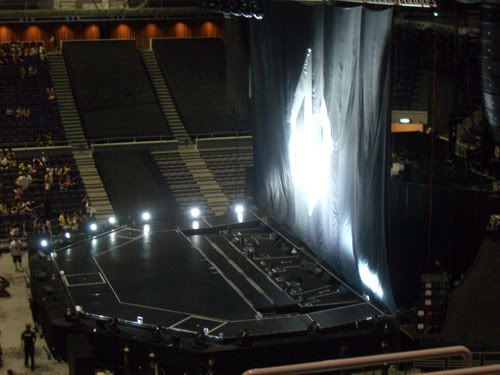 From where we are, we can see the front and back stage!
His concert was a blast!! Though we were sitting like the last 2nd row of the stadium, it was on the left hand side of the stage and considering we were pretty near to him compared to those in the middle and we were totally pleased with that!! Even those sitting beside me were saying how lucky we were to be sitting there coz not only we can see the front stage, we can also see what is going on at the backstage! With 2 big TV screens, they were the alternative way to see Rain's face!
Boy, was he a CUTIE!!!!!! He was really really cheeky and when he revealed his smile on that cute face of his, everyone's heart just melted! I know mine did! 3 words to describe him, cute, cheeky and darn darn darn sexy!!! The way he dances, moving his butt and washboard abs, man, I just wanna bite him! And like what I've seen on the video of his first concert in Seoul, I'm seeing them live in my own eyes and the effects were really really good!
It got off a pretty slow start for me initially. I think maybe coz I was in a bit of disbelief being able to see the real him, but from a far. The word to describe is... surreal, I guess. After a while with all the familiar music which I hear daily started coming out from his mouth and with the screaming fans around, I warmed up and started screaming like nobody's business! We were lucky that the people sitting around us were pretty 'onz', especially my row. We started chatting even before the show started and were really comfy with each other! Truly, you need to have such crazy company in order to enjoy concerts, else you better don't go!
Too bad, most of his songs are from his new album which I haven't got myself familiarize yet and can't sing along. But watching him dance is already enough to keep me occupied! The most funny thing during the concert was that he tried to communicate with us with English. Though he really improved a lot, but there were some sentences which we can't really hear it clearly and we all had the same reaction, that is... "What??" but we screamed and shouted along anyways.. *LOL*!
There was one particular song which involves lotsa dance moves and with his left hand injured in HK, he tried hard to dance and even had one move which involves him to use his left hand to support. After he did that move, he occasionally clutched his left hand, indicating the pain he felt and manz, was that a heartache for us! It was pretty touching, seeing him trying hard to bear with the pain and put on a good show for us.. The show went straight for 2 hours without any break and it ended with a big bang, showers of confetti blown into the air and him waving his hand while he slowly descended under the stage.
So darn reluctant to let that moment just end so soon but it was back to reality afterwards when everyone tried to squeeze their way out of the stadium. Missed him already the moment I got off my seat! While waiting for my dad to fetch us, we saw a crowd standing at an area with cameramen on standby, we knew we may just catch another glimpse of him! But, Dad came too soon before Rain stepped out, so that's it! *sigh* When will I get the next chance to see him?