. . summaries of reports . .
Pics + Short summaries from various reports
posted by daydreaming in quilt freeboard
Soruce: udn.com

MTF session


Touched by the fans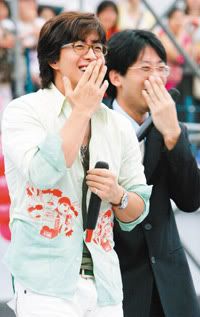 Funny that both BYJ and the translator had the same expression and gesture




With the subsidy from 皇宣緣公司 (some jewellery company) the fan club presented this amber pendant enclosed in a platinum case with a star to BYJ. This pandent is quite meaningful as its shape resembles the Taiwan island. The factory took 3 days to hand-make this pendant. The pendant has a name, it's called "星繫台灣", 星=star, and 星 soundalike 心 (heart), 繫=link, 台灣=Taiwan. Not just pretty, it's also very artsy and creative, right?




BYJ presented the symbolic Hyundai car key, to be donated to the Zang Hua development center. This car was originally to be included in the lucky draw, however after BYJ heard that the center sold kimchi for living, BYJ decided to present the car to the center instead.




BYJ bowed sincerely to thank the fans.




BYJ at airport

Various short summaries: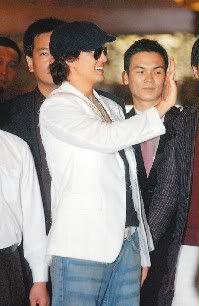 During the MTF, lucky fans got the chance to ask question. However, one lucky fan said she only wanted a hug from BYJ, so BYJ invited her up the stage and gave her a warm hug. Jealousy screams raised from the audience.

BYJ greeted the fans by saying "我很想念你們,去年訪台已感受到熱情", ie. I miss you very much, already felt the passion during my visit last year.

BYJ's impression of the Taiwanese family is that it feels just like seeing his family in Korea.

It was mentioned that at the airport, the bodyguard daisy-chained elbows to create a human-wall-shield in order to protect BYJ. The funny thing was, the fans also learned this trick, daisy-chained together so that they won't get squeezed out.

Fans dispersed the airport 5 minutes after BYJ entered the gate. Now it's the turn for the duty free shop and airport workers to take pictures of BYJ.