. . recalling untold scandal days . .
Bae Fever
By Esther Yeap · UrbanWire
Webby: www.theurbanwire.com
Hot Steaming Bae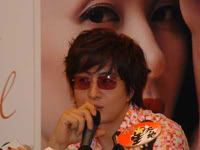 A man who has confidence in himself gains the confidence of others, and Bae Yong Jun was brimming with confidence as he strolled into the press conference at the Grand Copthorne Waterfront Hotel, captivating every person in the room.
From the land of the rising sun, to the metropolitan cities of Taiwan, and Hong Kong, the suave Korean actor of Hotelier and Winter Sonata fame has taken the Asian Pacific region by storm. According to Sports Today, a Korean newspaper, even the celebrated Jackie Chan hopes to have an opportunity of working together with him.
Bae's popularity far exceeds his imagination; in Singapore, over 600 fans, including those who had flown in from other regions such as Vietnam, Indonesia, Thailand, Taiwan, Hong Kong, Japan and even USA and Canada, were at Changi Airport to welcome the irresistible 31-year-old.
In fact, to have to enter the country conveniently, a special guest entrance examination booth had to be prepared for him. Even in Hong Kong, Bae had broken the record set by the pop group F4, of having the most number of fans welcome a visiting celebrity at the airport, reports Sports Today.
No Scandals Told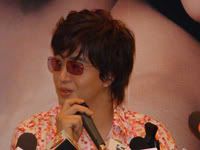 Here to promote his debut movie Untold Scandal, a remake of the novel Dangerous Liaisons by Pierre Choderlos de Laclos, Bae breaks out of his image as a debonair gentleman for the first time to play the Choson Dynasty's greatest Casanova in the film.
In 1988, Hollywood also did a version of Dangerous Liaisons, starring John Malkovich, but according to Bae, his character in Scandal is more fun-loving and humorous, compared to Malkovich's.
This being the first time he's starred in a period drama and certainly took a while to get into the hang of things. He quipped in Korean, which was translated, "I felt that the traditional costume looked weird on me, and I didn't feel like I was suited for it initially, but gradually I got used to it."
Bae has been acting for 10 years, typecast as hero, so when the opportunity came for him to do something different, he took it up.
Scandal is also the matinee idol's most challenging role to date. In preparation for the role, he shared that he had read up on the Choson era to learn more about the culture and history then to better portray his character. He also had to shed about 10 kilos for the role.
The most strenuous parts in the film, however, were the scenes that required physical intimacy with co-star Jeon Do-Yeon, who can be seen in the Korean drama serial, Shooting Stars, currently playing on Singapore Cable Vision's Channel 56 from Mondays to Wednesdays at 1pm/7pm. She plays the virtuous widow Lady Sook he has to seduce in the movie.
Perhaps the Singaporean journalists in the ballroom of the hotel were bolder than he thought. The charismatic actor, with quite a sense of humour, got painfully shy and was turning pink after a journalist raised the question on whether he was physically aroused while acting, given all the sensuality involved.
Blushing, he responded, "No reaction at all," and added that he was focussed on the Herculean task of acting, and getting the right expressions for the camera.
Interestingly, while filming the sex scenes, only the female members of the crew were present; the men weren't allowed into the room.
When asked what he thought of his co-star's figure, he bashfully replied, "She's very sporty, and so has a very good figure."
Still, the affable star, feels that the real Bae Yong Jun is probably more of a Minhyung, the devoted and unwavering lover in Winter Sonata, than a Jo-Wan.
However, he admitted to sharing traits with his character in Scandal, Jo-Wan, which he never realised existed in his persona, until now. This stirred the reactions of those in the room, as Bae jested, "I enjoyed playing him."
And Bae sure knows to trigger excitement, and keep everyone on their toes.
After some mutterings among the journalists and several dropped jaws, he explained it was in respect to Jo-Wan's flirty, teasing and laidback personality, and not his philandering conduct.
Moving on from reel to real, Bae was quizzed about what he thought of sex and the slightly taken aback star asked, "Before marriage or after marriage?"
After the clarification of what he thought about sex after marriage, Korea's hottest export, who is known to be fiercely private about his love life, expressed that he "the physical relationship is very important as it makes a love complete", and the woman he looks for to complete the love has to be someone of integrity with beautiful eyes.
His answer had every female person in the room swooning.
Although offering no scandals of his own, Bae did demonstrate his professionalism in the risks he is willing to take for a role he plays when questioned if he were bold enough to go further than he had already done for Scandal.
Cordially, he said, "If it is a good script, and the role requires it, and so long as it's nothing pornographic."
Bae Sight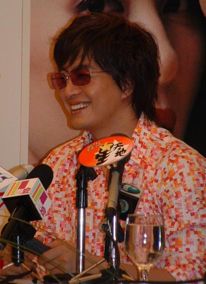 Attentive and not showing any weariness throughout the interview, Bae joked that he wears glasses because the camera flashes irritate his eyes.
"I don't actually need the glasses to see," he stated, as he took off his shades. "I only wear them if the role requires me to."
But the heartthrob has certainly set his sights on Singapore.
Other than being pleased with local fans who were "so energetic, so passionate", he was also charmed at how"clean and nice" Singapore is.
"As I was travelling on the roads in the car from the airport, I had the urge to get off and walk around on the streets."
In Taiwan, he had promised the fans that he would return there if Scandal earns a box office hit of 3 million NT [S$153,000]. However, it's quite a different case, with Singapore. "I want to come to Singapore anyway, so it doesn't matter," he tells us.
And this can only mean more Bae-watching for the fans in future.