. . missing the man . .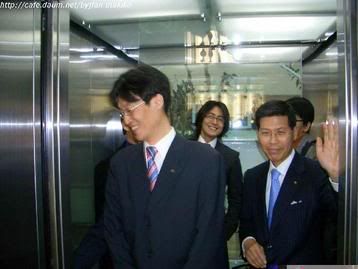 Click pic to see big pic!
Missing the man so much...
This is the first 2006 pic of him taken by a fellow fan who accidentally met Yong Joon at Lotte on 20th Jan 2006. How lucky lucky lucky of her to bump into him just like that!
Message from the lucky bae family:
On first day of our Seoul trip,
me and my friend were wandering about restaurants at Lotte trying to get our lunch,
we met BYJ waiting for the elevator.
As it was just after lunch time, there were only two of us!
It was 5 or 6 minutes until the elevator came,
but BYJ was there kindly smiling at us.

As elevator came and BYJ got on the elevator,
I took up the courage and asked to take a photo as a souvenir for my mother.
Man on right is president of Lotte DFS, and left is the manager.
They were very kind and held the door open till I finished taking the photo.
He looked so good in that pic, all healthy and freshen up with that smile we all missed so much, I assumed he had taken a good rest these past months! While we are all starving and craving for more of him, knowing that he is resting well privately, makes the pain of missing him more bearable..
By courtesy of Makiko and a bae family who accidentally met BYJ at Lotte on 1/20. Reposted by Frances on Soompi.