. . back from BKK . .
Back from Bangkok yesterday! Didn't have a chance to surf much internet over at Bangkok and had missed him so much! Finally finally some new pics of him and boy, does he look suave in that long hair!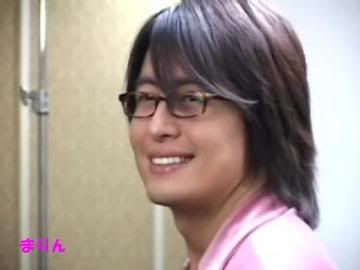 Had been in contact with Tigger from BYJTogether.com for the past few days before leaving for BKK, and even made plans to meet her up in BKK, however that did not happened. But, we did manage to exchange some stuffs through the hotel which I'm staying and I'm so delighted to have received her parcel of goodies on my last day in BKK! It was a big surprise as I didn't expect it!
Left to right, top to bottom: Envelope used to store the goodies with my name and room number, all about April Snow Mag, BioScope Mag, Popcorn Mag, 2 x notebooks printed by BYJTogether.com.
Left to right, top to bottom: Envelope again, 2 x CDR with Yong Joon, printed by BYJTogether.com, 2 x AS pamplets and a postcard and 2 Yong Joon button pins (not in pic)
I didn't manage to get any magazines with cover page on Yong Joon in Thailand, thus I'm really grateful to Tigger for giving me those magazines! I, however, manage to find the pamplet of April Snow in promotion of April Snow in Thailand, and some hand bills of Winter Sonata in promotion of the Winter Sonata DVD in Japan. Not too sure how long had April Snow been showing in Thailand, but I didn't manage to see April Snbow's poster anywhere except the one shown in the below picture, taken outside Siam Paragon. Didn't manage to find any posters at MBK Cineplex as well.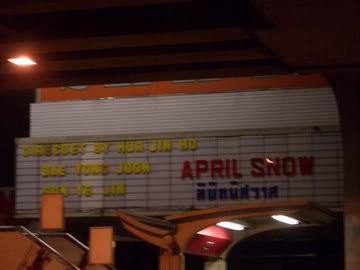 Anyways for me, I gave her 3 magazines from Singapore, namely, 8 days, I-weekly, First Magazine of April Snow. I hope she like 'em all! :)