. . andre fashion show . .
[:: Found this by chance when doing some searching on Andre Fashion Show which 'starred' YJ and CJW.. still really fascinated as though first time watching it ::]
Andre Kim fashion show at Sydney Opera House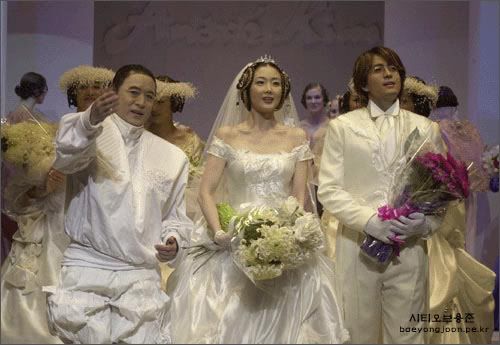 Source: http://www.koreapost.com/2002_05/peo_04.htm
Andre Kim became the first fashion maestro to stage a fashion parade at the Sydney Opera House in Australia on April 22, 2002 since its opening 73 years ago. The 2,700- man main concert hall of the Opera House was filled almost to capacity with fashion-sensitive ladies and other guests, including Korean residents in Australia.

Named 'Andre Kim Spring & Summer Fantasia 2003', the rare event was accorded enthusiastic applauses from the guests and in the case of the Korean residents the excitement was much strong in the fact that Korea's top TV stars Ms. Choi Ji-woo and Bae Yong Joon wore captivating wedding dresses.

The latest creations of Andre Kim were presented on five different themes: Spring & Summer Fantasia 2003; World of Art and Romanticism, Rhapsody from the Kingdoms of the Orient; Seven Veils and Legends from the Land of Morning Calm; and Maria, My Eternal Love and Dream.

Especially drawing the admiration of the guests were the violet evening dress and evening coat adorned with royal court patterns of ancient Korean dynasties and an evening dress and jacket ensembles of purple wine and rose.

Then came a violet evening emblem worn by Ms. Choi and snow- white formal suits shown by Bae, which posed a striking harmony and balance as well as contrast. Also attracting the attention of the audience was an evening dress and jacket the violet organza and organdy.

The fashion parade was given at the invitation of the Ministry of Culture & Tourism of the State of New South Wales organized by Min-gyo Group in Australia importing Korean cultural products.

Since his first fashion parade in Paris in 1966 Andre Kim has given gala fashion parades in the world capitals on 31 different occasions and 97 times in Korea--each time winning rave views from the fashion editors of the world as well as Korea and other renowned personalities.

The decorations given him by the Heads of States of many countries attest to the popularity and respect he enjoys.

Such decorations include the Culture Medal of Korea given him by the President of the Republic of Korea in 1997, a Culture Medal of Italy from President Sandro Pertini of Italy in 1982 and a Medal of Art and Literature from the government of France in 2000.

In San Francisco in 1999, November 6 was proclaimed 'Andre Kim Day' in memory of his fashion show in the city on that day.