. . byj on LA times . .
South Korean Actor Drives Up Heart Rates and Sales in JapanThe star of a popular soap opera has become a one-man franchise that's worth billions.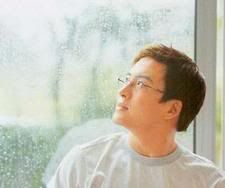 By Barbara Demick, Times Staff Writer
Date: 2 November 2005
Source: LA Times
SEOUL : Like a sleepwalker shaken out of a dream, the woman is startled to be asked what she is doing out on a miserable night huddling for cover at the entranceway to a small office building as great rivulets of rainwater stream down around her.

"What am I doing here?" Masako Amino, a Japanese businesswoman in her 40s, repeats the question in a daze.

The answer is Bae Yong Joon, a South Korean matinee idol famous for driving otherwise sane women to madness.

Ever since his best-known television serial, "Winter Sonata," first aired in 2003 on Japanese television, an estimated half a million fans have come from Japan to visit locations where the show was shot, and even his manager's office on this hard-to-find back street. The chance to glimpse Bae drove thousands of sobbing, screaming fans to stampede outside his hotel during a visit to Tokyo last year.

This is Beatlemania transposed to Asia in the 21st century, with middle-aged Japanese women being by far the most maniacal.

"My husband is laughing at me, and I am amazed myself. I love opera. I love ballet," Amino says as she recovers her composure. The businesswoman, who with her husband runs a chain of stores in Italy, admits sheepishly that she has come all the way from Rome on a Bae pilgrimage. "There are others who are better-looking or better actors, but he has such a nice aura around him."

Unbeknownst to Amino, the object of her affection is upstairs in the offices of BOF Inc., his management company. In order to keep fans at bay, people are told he rarely visits. But in fact, he is there, having just finished a rare press interview in which he reflected with the same astonishment on his fame.

"I never thought I was the best. It was just something that happened. I suppose I am surprised myself," said Bae, speaking through an interpreter. "Nobody in my family ever expected me to become an actor. I was always reserved by nature."

The actor was handsomely dressed in designer jeans, a camel-colored jacket and a low-cut T-shirt revealing a broadly muscular, utterly hairless chest. His smile was so bright it seemed it would glow in the dark. He wore the tortoiseshell glasses that are the signature of the character he played on "Winter Sonata," a faithful and sensitive young man whose love affair is cut short when he suffers amnesia after a car accident.

For the tastes of American women, Bae might be a bit too girly. He is in some ways one of South Korea's new wave of kkotminam, or "flower men," as they call the pretty male models and actors now in vogue here. But at the same time he cultivates an ultra-masculine image, having posed shirtless for a $160 coffee-table album of photographs in which he displays his impressive pectorals. (In its initial release, 100,000 copies were sold in Japan in the pre-order period alone.)

"It is a love story," says Lee Young Gyu, a Seoul travel agent who drove Amino and a friend to the management office. "Women are looking for a love that they have not yet experienced."

It isn't always easy being Bae Yong Joon, shadowed everywhere by his adoring fans. Lest he appear ungrateful for the adoration that has made him rich, Bae doesn't gripe. But a colleague says the actor was particularly upset in Tokyo that he couldn't even go to the lobby of his hotel without fear of creating an incident. Perhaps because it is so difficult for him to go out, he often spends his time playing on-line computer games like Starcraft.

"My popularity doesn't give me much physical space…. But I'm used to it. My only regrets are that I can't travel when I want to or take photographs," Bae said, referring to his favorite hobby.

As a Korean cultural icon, Bae is frequently asked political questions, especially touching on the brutal 1910-1945 Japanese occupation of Korea or the hot-blooded nationalist dispute over an uninhabited island claimed by South Korea and Japan. Perhaps that is one reason that Bae rarely gives interviews; an errant remark could damage the miraculous cash-generating franchise that he has become.

Billions of dollars are at stake. Literally. A Seoul-based economic forecasting firm, Hyundai Research Institute, credited Bae, or at least the Bae phenomenon, last year with a $4-billion upsurge in business between South Korea and Japan.

"I have so much responsibility," Bae said. "Fortunately, I am someone who refrains from opening my mouth before thinking about what I have to say."

In fact, after North Korea's Kim Jong Il, Bae might be the most recognizable Korean living right now. His face appears on etched crystal plaques sold for $160 each on Korean Air flights and on $2 socks sold by street vendors in Seoul.

His celebrity extends to Singapore, China and Taiwan and even to communist North Korea; defectors say that DVDs of "Winter Sonata" are smuggled across the border from China and watched secretly in violation of laws against the import of enemy culture.

If Bae is not worshiped at home with quite the same blind adoration as abroad, he is certainly appreciated. Many South Koreans, even those who aren't fans, consider him something of a national treasure for boosting the nation's image and economy.

"Bae Yong Joon has contributed to the improvement of Korea-Japan relations more than 10 ambassadors combined could ever achieve," said Chung Ghil Za, a 64-year-old South Korean homemaker. "He's a true patriot."

In Japan, the passion for things Korean has extended to the cuisine and language. The Japanese broadcaster NHK, which airs televised Koreanlanguage lessons, reported that sales of an accompanying textbook had more than doubled since 2003. Korean cultural centers in Tokyo and Osaka have experienced sharp enrollment increases in language classes.

Seo Hyun Seop, a former diplomat and cultural affairs critic, says that Korean dramas evoke for Japanese fans a nostalgic warmth missing not only in their own marriages, but in postindustrial Japan.

"These middle-aged Japanese women who hated Korea before and thought it smelled of kimchi and garlic now find all things Korean to be fresh and interesting," Seo said.

The question is, can it last?

The Korean National Tourism Organization is certainly hoping it will and is trying to encapsulate and preserve the Bae phenomenon.

In July, the government agency set up a separate division to promote tourism at locations used for television dramas. It is asking producers to build more durable sets that can be visited later and to pick particularly scenic locations for shooting such as Chuncheon lake, the location for much of "Winter Sonata" and now one of the country's top tourist destinations.

"We've been absolutely overjoyed," said Han Hwa Joon, who heads the new division. "It's proof that when you talk about a nation's culture, it is not just old palaces and relics. Popular culture is also very precious and should be treated accordingly."

But the South Koreans may have to find another Bae Yong Joon to be the bait for the droves of lovesick females.

Without quite saying so, Bae makes it clear he is tired of playing the romantic lead in syrupy soaps. Asked about his tastes, he cites the darkly subversive films of David Lynch and the actors Robert De Niro and Al Pacino. In his first feature film, "Untold Scandal," a 2003 adaptation of "Les Liaisons Dangereuses," he is the lecherously evil nobleman.

"My image is not who I am in the real world. I want to do different types of roles so people can see what I can do," Bae said. "I would like to play a comic role. I'd even like to be the bad guy."