. . considerate BYJ . .
Yong Joon is willing to confines himself to a hotel.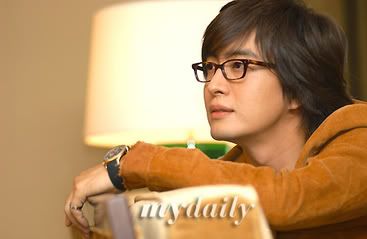 Translation of Nikkan Sports issued on the 5th of September.
Courtesy of Chagebi from BYJ.co.kr
"I don't mind even if I can't go out from the hotel." These were the words Bae Yong Joon uttered most during a week stay in Japan.
Though It was a top secret where he stayed , some of the mass media or some of fans have kept careful watch on Yong Joon in the hotel of the Metropolitan area since the 29th he came to Japan on. In the interval of congested schedule , the people concerned who wanted him to take a short rest for a change racked their brains: How they made him go out without being noticed.
Everytime they do so, they say that Yong Joon insisted on as follows. "I came to Japan in order to the promotion of the movie and see many members of my family.
That's enough for me. You don't have to mind about that." He said so from the bottom of his heart. He gave a lot of care and consideration to all the staffs around him.
Fortunately, he stayed in the suite with equipment he could do some exercise. He read a newspaper and did a relaxaion excercise in his spare time. He used room-service for a meal. He was satisfied with spending a spare time like these. He ate out at a restaurant near the hotel with his staffs on the evening of the 1st . And he went to play golf in the suburbs of Tokyo, in Chiba pref. However, it is said he hesitated to do so at first.
When the last coming to Japan,on the 26th of November, some of his fans were injured in the accident in front of the hotel. He wants no one to get injured again. All of the people, staffs, hotel workers, security guards, or police supported me. "I don't want to put them to needless trouble" Yong Joon says. He disinterestedly understands his position. He has kept control over himself for his fans and the people around him. He was willing to confined himself to a hotel room for them.
[Chris: Need I say more? He is forever thinking of other people..
]