. . too touched, he cried . .
Yonsama, moved to tears at 'April Snow' concert
[Sports Hankook 2005-08-31 19:57]
Reporter: Ko Kyudaeenter@sportshankook.co.kr
Posted by Yoon from Quilt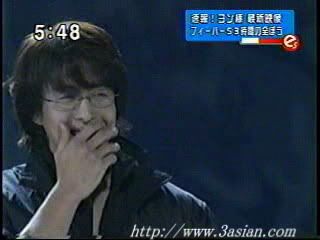 Yonsama BYJ ended up shedding tears.
BYJ moved to shed tears at 30,000 fans' passionate cheers at the concert held on 31st at Super Arena of Saitama prefacture nearby Tokyo.
BYJ appeared on stage to conclude the concert with SYJ around 5:40 pm. BYJ's voice suddenly began to tremble as he was saying in Japanese 'I thank you my families (fans)' and he wiped out his eyes with a hankerchief. He was so overwhelmed to tears by 30,000 fan's intense love and the fans also burst into tears.
SYJ also couldn't hold herself from her bubbling emotion as she was talking about the movie with the audience and turned the whole concert hall into sea of tears with her tears. SYJ, who had to hold her tears for the second time since the fan meeting with her Japanese fans on June 28th, could only put herself together after the fans consoled her saying 'It's OK. You are beautiful.'
After SYJ left the stage after bidding farewell, BYJ reluctantly said goodbye to fans on the moving round stage built separately in front of the stage. BYJ waved to fans and wiped tears and seemed to console himself by putting a hand on his chest.
30,000 fans were also sad to part with BYJ and shouted 'It's OK' 'Sarangheyo ( I love you)', 'Sayonara (bye)' as one. BYJ left the stage after 30 minutes of bidding farewell and fans gave him endless applauses and kept shouting for an encore for 10 more minutes.
This concert started at 3pm and lasted about 3 hours. Loveholic and S gave their passionate performances in the format of mini concerts. BYJ, SYJ and director Huh JInso got on the stage and shared the emotional moments by telling stories about the movie 'April Snow'.
After this concert, BYj and SYJ will come back to Korea after they wrap up their itinerary in Japan by attending an official press conference on the 2nd.