. . hilarious byj . .
BYJ before leaving Narita
Source: Sanspo.com
Posted by tomato99 in Quilt
Shared by Caroline in Soompi.com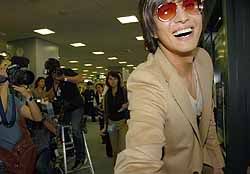 This is one photo taken by cameraman of Sanspo, Mr. Haruna.
BYJ was looking at media standing at other side of gate, Mr. Haruna shouted "Yon-sama, Yon-sama" to catch last shot of him. Then the accident happened.

BYJ noticed and approached to Mr. Haruna, and patted his big tummy several times.




this photo was taken then.
"Everyone pats my big tummy but I never thought Yon-sama would pat too, I was really surprised!!! I should go on diet!" says Mr. Haruna.

+++++++++++++

BYJ left hotel at 10 Sunday morning, reaching airport near noon.
At airport, BYJ and staff went through VIP entrance.
Although it was not notified, there were about 300 fans gathering to see him off.

Cute BYJ, he must be amused by the cameraman shouting and his big tummy.