. . new paper article . .
Bae-by, why SO SERIOUS? Poor co-star so NEGLECTED
By Chang May Choon
25 August 2005
The Electric New Paper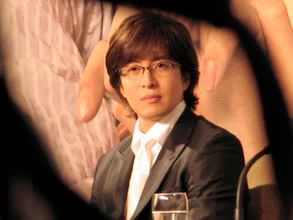 The atmosphere was rather grim - with actor Bae Yong Joon less smiley than usual the media pushing and shoving and a bored co-star
HIS megawatt smile is as famous as he is.
HIS megawatt smile is as famous as he is.
But it was missing from the handsome face of Korean star Bae Yong Joon yesterday evening.
Sometimes, he let a faint smile show, or he'd chuckle.
But, mostly, he looked serious - until something funny cracked him up.
It was most unlike Yong Joon, 33, whose signature sunshine smile has melted the hearts of countless fans all over Asia.
But, the situation called for it.
The Winter Sonata star was at the international media conference for his highly-anticipated new movie, April Snow, which deals with the grim topics of death and extramarital affairs.
His last film had been the 2004 hit Untold Scandal.
Tension was also in the air at a ballroom at Coex Intercontinental Hotel, where there were over 400 photographers and cameramen pushing and shoving to get the best pictures.
That's not including the 600 local and Asian reporters seated under strict orders of the emcees - which only goes to show the star power of Yong Joon.
After all, which other Korean actor can command such a massive media turnout?
STERN EMCEES
But crowd control had to be executed by the stern emcees - one speaking in Korean, one in English and one, Japanese.
'Everyone must be seated after the cast arrives, or we will stop the media conference,' they announced for the umpteenth time.
No personal questions were allowed, only those related to the film would be entertained, they added.
April Snow is about how two people struggling with their spouses' betrayal find solace in each other.
Yong Joon plays a married lighting director who falls in love with a housewife played by Son Ye Jin, 23, of Summer Scent fame.
When one Korean reporter said that 'the film's sadness is so deep that it touched everyone', Yong Joon confided that he was too nervous to watch the film himself.
FILMING IN PAIN
But he did reveal that he felt such intense pain during filming that he needed time to pull himself out of his character.
'I felt like I had spent four months filming in pain,' he revealed through an interpreter.
'On the last day of filming, I was left with an empty, lonely feeling inside me.
'The director and I actually stood side by side at the side of the road for a long time saying nothing at all.'
It did not help that the director, Hur Jin Ho, is as artistic and unpredictable as Hong Kong's Wong Kar Wai - which means he gives his cast minimal lines to work with.
Yong Joon said: 'There were no lines and no detailed explanations, but that's the attraction of director Hur, and I wanted to try this new way of filming.
'Sometimes I felt trapped in a dark tunnel, but it's great to have worked on this film.'
His sweet-faced co-star Ye Jin also acknowledged twice that filming was not easy.
But she did add that there were some light-hearted moments too.
'The subject matter is so heavy, and that made the atmosphere on the film set heavy, too,' she said.
'But there was a scene that called for a light touch. The director handed us two cup noodles and said, 'Just do it'.
'But Mr Bae just closed his lid pretending that he had already finished, so I had to come up with a line on the spot,' she added with a smile.
What did she say? That's for you to find out when the film opens in Singapore in October.
FELT PRESSURED
But Ye Jin was clearly the neglected one at the media conference, as most reporters directed their questions at the more famous Yong Joon.
At one point, she was even seen adjusting her microphone - which must have prompted the emcee to request that the next question be addressed to her.
Many times, she was also seen doodling with a pencil - perhaps out of boredom.
Ye Jin admitted that she felt the pressure of working with such a famous co-star, but once the filming started, all she could concentrate on was her acting.
Yong Joon, however, was quick to downplay his celebrity status.
'I'd like to think of myself not as an international star, but a Korean actor who works very hard at his job and gets recognition from other parts of Asia.'
FINALLY, A GRIN
His trademark grin finally returned to his face when a Japanese reporter came forth.
Clearly a fan of Yong Joon herself, she said she was nervous to watch the film as she was worried about his love scenes with Ye Jin, but now feels relieved that they were shot 'so beautifully'.
Then, she asked him to say a few reassuring words to his Japanese fans.
When the question was translated into Korean, Yong Joon burst out laughing - as did all the Korean media in the room.
He could barely contain his laughter, as he thanked her for the feedback, adding that the director had paid 'special attention' to the scenes.
'Thanks for all the attention and love, and I hope fans will leave the theatre with a special experience about love.'
April Snow opens in Singapore on 13 Oct.
--------------------------------------------------------------------------------
He drank from this... so housewife, 50, grabs it
THIS is the glass that Bae Yong Joon drank from.
So declared a visibly-excited Mrs Etsuko Sakamoto - for the third time in five minutes.
The New Paper spotted the 50-year-old Japanese housewife at the April Snow media conference yesterday.
Such a resourceful fan was she, she managed to sneak in. She also pulled a favour with a hotel staff member to hand her the wine glass that bore her idol's lip prints.
Mind you, there was still unfinished water in it, but she carefully covered it with a plastic bag anyway.
'This is the first time I managed to get something that he's touched before, so I will frame it up and keep it as a souvenir,' she said proudly, after showing it off to a group of Korean reporters and also two passersby.
That's not all.
MOVED TO SEOUL
Mrs Sakamoto became such a hardcore fan after watching Yong Joon's hit drama, Winter Sonata, that she moved to Seoul last November to chase her idol - with the blessings and company of her retired husband, that is.
The cheerful woman also enrolled in a Korean language class so that she can converse with her idol in his mother tongue, and has met him 30 times since.
Of course she followed him to the quiet town of Samcheok, where April Snow was filmed, together with four other fans.
'We spoke to him many times. He'd ask us in Japanese, 'Are you cold?', or 'Are you all right?',' she said.
'Then I'll reply in Korean, 'It's okay.' '
What does her husband have to say about her love for Yong Joon?
'He tells me to just go and do it, it's okay.'