. . lucky but crazy japan fanz . .
4,000 fans waiting for BYJ at Narita Airport!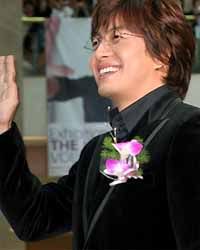 On 25th morning, at Japan's Narita Airport, already over 4,000 fans have gathered there just to look at BYJ. According to the news, more than 180 fans waited at the airport since last night. As the ime of BYJ's arrival lloms nearer, the number of fans increased to more than 4,000, shocking the other people at the airport.
Regarding this, Japanese media commented:"This is even grander than the time when LBH and JDG visited Japan. And there are also a large number of media. It is indeed shocking."
In addition, Japanese TV stations sent out teams to carry out the live telecast of the situation at the airport constantly, enabling all the Japananese fans to view and understand the situation. Amongst the fans, many are from overseas, and many others are office workers, who have all applied for leave just to see BYJ. Although the fans come from different parts of the world, but the love for BYJ is the same. They all hope to able to see the BYJ, whom they missed dearly, soon.